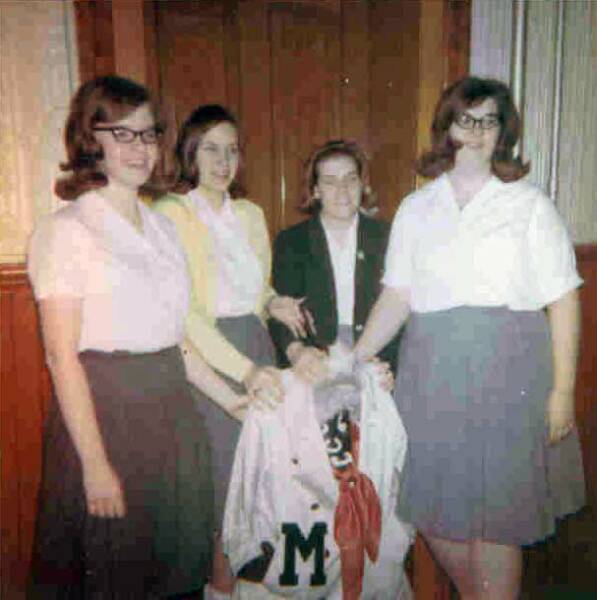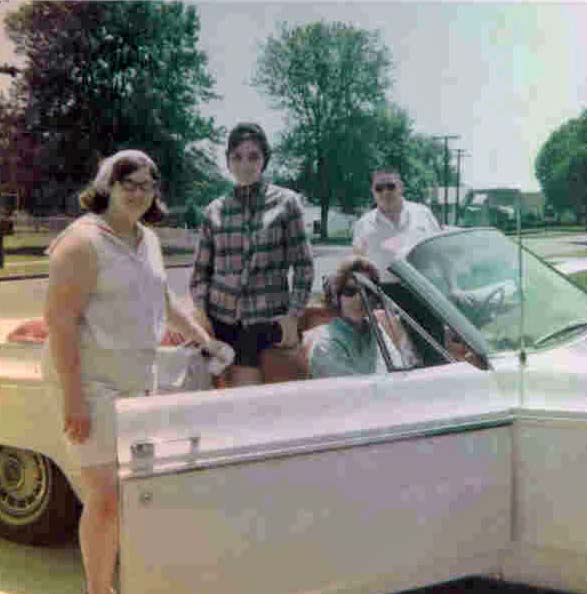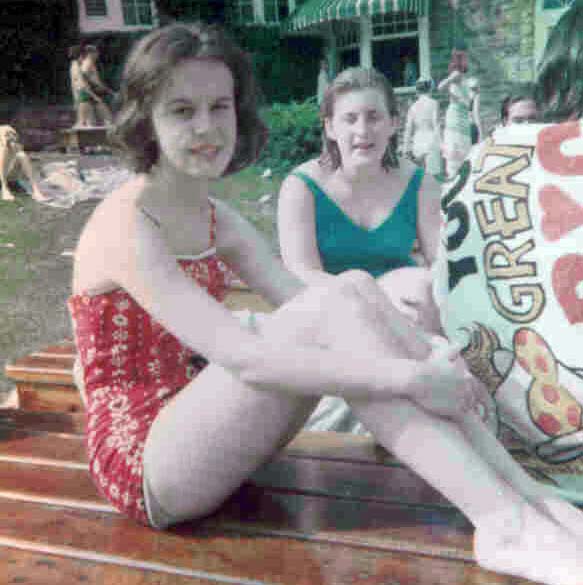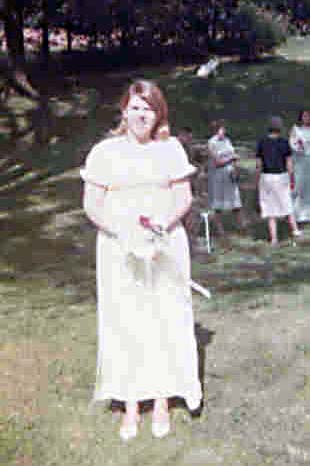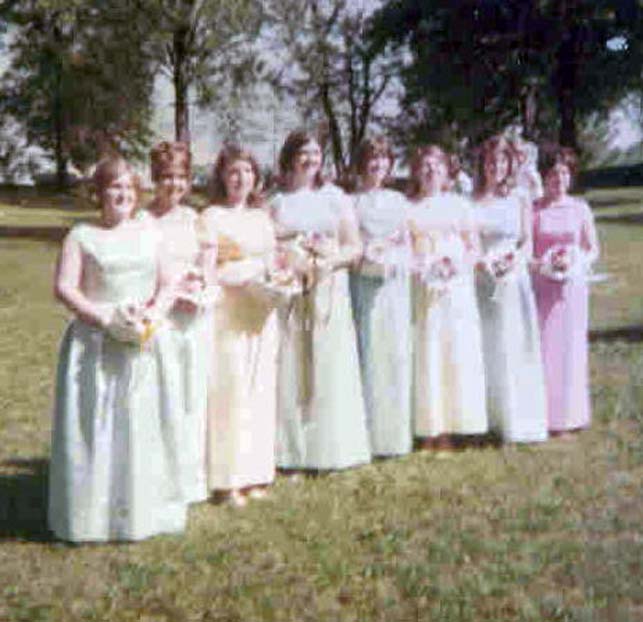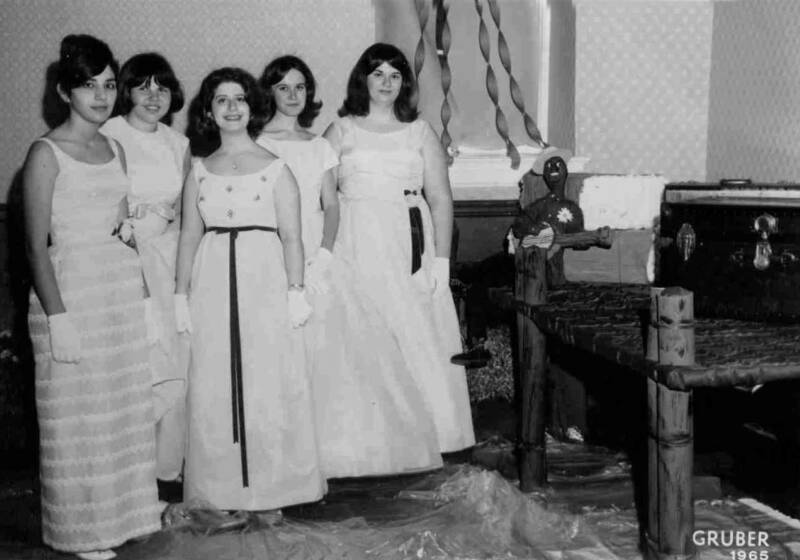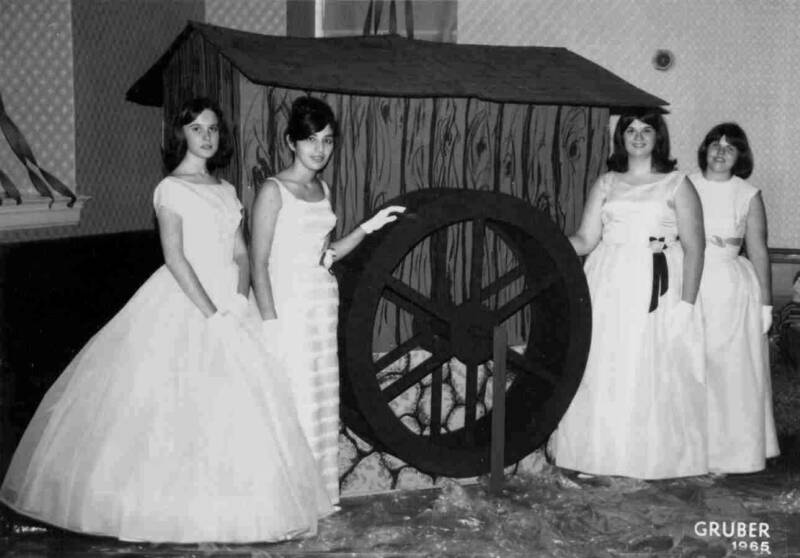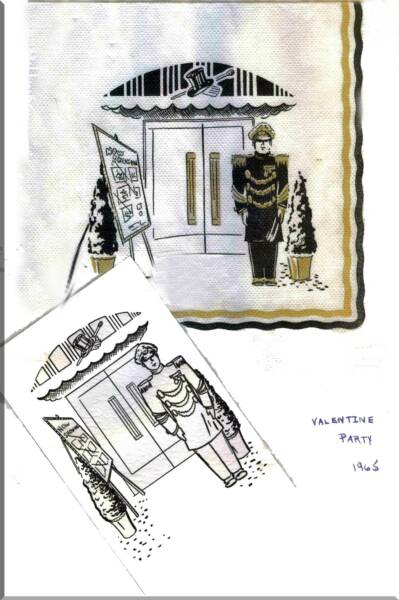 The Twist

The Peppermint Twist

Twist And Shout

Let's Twist Again Like We Did Last Summer

Twisting The Night Away

...these songs kept our hips swiveling and our arms swinging in the 60's. The nuns were appalled and forbide us to dance in such a vulgar manner!

Top Ten for 1965

1."The Sounds of Silence" ... Simon and Garfunkel

2."We Can Work It Out" ... The Beatles

3."My Love" ... Petula Clark

4."Lightnin' Strikes" ... Lou Christie

5."These Boots Are Made for Walkin'" ... Nancy Sinatra

6."The Ballad of the Green Berets" ... Sgt. Barry Sadler

7."Soul and Inspiration" ... The Righteous Brothers

8."Good Lovin'" ... The Young Rascals

9."Monday, Monday" ... The Mamas and the Papas

10."When a Man Loves a Woman" ... Percy Sledge

L-R: Patty McGraw, Billie Fritz, Paula Moeller, and Edna Hibbs. Any clue what they are holding on to??

Going out for the weekend!

Edna Hibbs, Janis Boury

Relaxing by the pool!

Nancy Stemm and Kathy Potterfield

May Party, 1966

L-R: Kathy Potterfield, Barbara Wilson,Patty McGraw, Edna Hibbs,Nancy Stemm, Mary Winifred,

Ginger Burke, Patty Gillespie

Mary Winifred Walters - May Party 1966

May Party 1965

L-R: Janis Boury, Mary Winifred, Joan Berlow, Nancy Stemm, and Edna Hibbs

L-R: Nancy stemm, Janis Boury, Edna Hibbs and Mary Winifred Walters.





Stay tuned for more pics from 1966!